WOMEN MAKING WAVES
2017-09-20 18:00:00
2017-09-20 19:00:00
https://www.alumnicn.com//medias/image/thumbnail_190552870559b8fe2c978a5.jpg
ICN BUSINESS SCHOOL - CAMPUS ARTEM
86, Rue Sergent Blandan
NANCY
54000
FR
Lancement d'une série de rencontres avec des femmes remarquables sur le campus ARTEM Ces rencontres sont ouvertes aux étudiant-e-s et au personnel des 3 écoles ARTEM, aux membres d'EST'elles Executive, et au grand public. Ces rencontres se dérouleront en français ou en anglais de façon interactive avec le public (fishbowl conversation). L'entrée est gratuite. Kim considers the way you dress as an expression of your identity, of who you are and what you deem important in life. Committed to sustainability she has been researching on, and wearing sustainable fashion for the past 20 years. Kim will share a virtual exhibition of  showcases pieces from her wardrobe collected over time. Each item carries a unique story, interweaving narratives of Kim's engagement as an entrepreneur and lecturer with personal memories. Her wardrobe can be viewed as an embodiment of the maturation of a social movement consisting of pioneers who enact transformation of the fashion industry. Kim is passionate about working at the interface of sustainability, entrepreneurship and aesthetics. After fashion design school and an MSc in Organization & Management, Kim became an entrepreneur in the fashion industry. She was co-founder of the first eco fashion store in The Netherlands and started one of the first global platforms on eco fashion. In 2013 she obtained her PhD in Switzerland on the topic of sustainable fashion enterprise. Kim is currently an Assistant Professor in Entrepreneurship & Organization at Wageningen University in the Netherlands where she addresses social scientific questions around circular economy, including cradle-to-cradle design principles, transition management and systems thinking. Selected relevant publications : Poldner, K., Dentoni, D. and Ivanova, O. (2016). Aesthetic mediation of sustainability, creativity and organization. Special Issue on 'Organizational creativity and sustainability'. Journal of Cleaner Production. Poldner, K., Shrivastava, P. and Branzei, O. (2015). Embodied multi-discursivity: An aesthetic process approach to sustainable entrepreneurship. Business & Society Thopte, I. and Poldner, K. (2014). David and Goliath in sustainable fashion: Strategic business alliances in the UK fashion industry. International Journal of Strategic Business Alliances, 3(2/3), 179. http://www.wur.nl/nl/Expertises-Dienstverlening/Faciliteiten/impulse/Show/Exhibition-Wear-I-am.htm
https://www.alumnicn.com/event/women-making-waves/2017/09/20/449
La date limite de clôture des inscriptions est passée.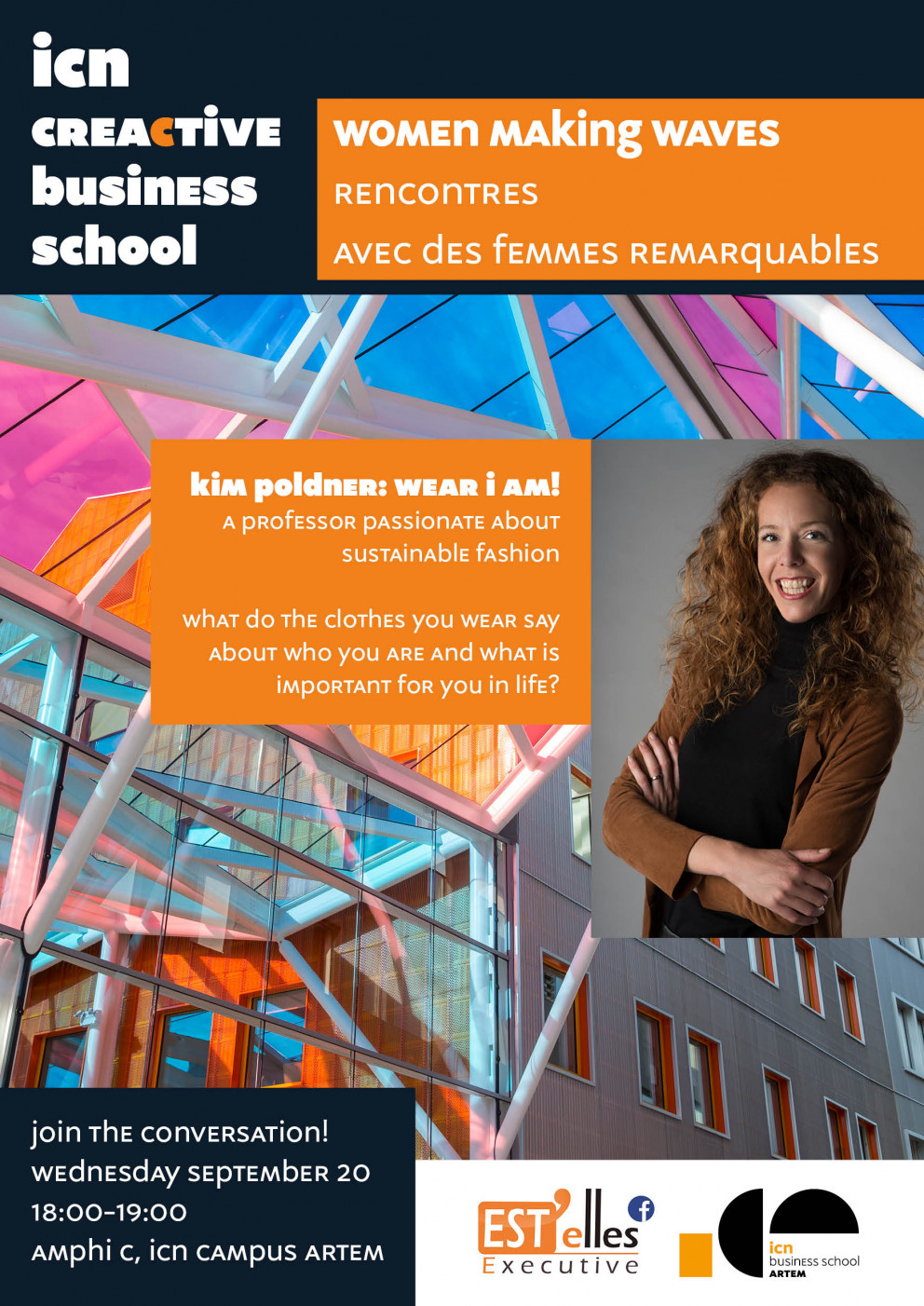 Lancement d'une série de rencontres avec des femmes remarquables sur le campus ARTEM
Ces rencontres sont ouvertes aux étudiant-e-s et au personnel des 3 écoles ARTEM, aux membres d'EST'elles Executive, et au grand public.
Ces rencontres se dérouleront en français ou en anglais de façon interactive avec le public (fishbowl conversation). L'entrée est gratuite.
Kim considers the way you dress as an expression of your identity, of who you are and what you deem important in life. Committed to sustainability she has been researching on, and wearing sustainable fashion for the past 20 years. Kim will share a virtual exhibition of showcases pieces from her wardrobe collected over time. Each item carries a unique story, interweaving narratives of Kim's engagement as an entrepreneur and lecturer with personal memories. Her wardrobe can be viewed as an embodiment of the maturation of a social movement consisting of pioneers who enact transformation of the fashion industry.
Kim is passionate about working at the interface of sustainability, entrepreneurship and aesthetics. After fashion design school and an MSc in Organization & Management, Kim became an entrepreneur in the fashion industry. She was co-founder of the first eco fashion store in The Netherlands and started one of the first global platforms on eco fashion. In 2013 she obtained her PhD in Switzerland on the topic of sustainable fashion enterprise. Kim is currently an Assistant Professor in Entrepreneurship & Organization at Wageningen University in the Netherlands where she addresses social scientific questions around circular economy, including cradle-to-cradle design principles, transition management and systems thinking.
Selected relevant publications :
Poldner, K., Dentoni, D. and Ivanova, O. (2016). Aesthetic mediation of sustainability, creativity and organization. Special Issue on 'Organizational creativity and sustainability'. Journal of Cleaner Production.
Poldner, K., Shrivastava, P. and Branzei, O. (2015). Embodied multi-discursivity: An aesthetic process approach to sustainable entrepreneurship. Business & Society
Thopte, I. and Poldner, K. (2014). David and Goliath in sustainable fashion: Strategic business alliances in the UK fashion industry. International Journal of Strategic Business Alliances, 3(2/3), 179.
http://www.wur.nl/nl/Expertises-Dienstverlening/Faciliteiten/impulse/Show/Exhibition-Wear-I-am.htm